Devils Dung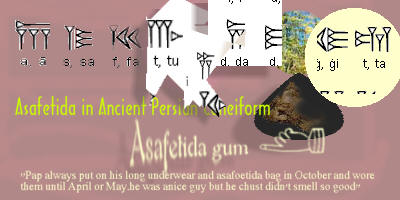 I really had to tour the net to find that even pharmacists' herb lists called this herb the Devils' Dung! Several sites quote Mrs Grieves "A Modern Herbal" verbatim, but I did find a rather antiquated though gripping account of vast plains of Asafoetida growing in Persia. That from an American Pharmacologists Journal, circa 1887...

---
AMERICAN JOURNAL OF PHARMACY
Volume 59, #1, January, 1887
Botanical Medicine Monographs and Sundry
SOME PLANTS OF AFGHANISTAN, AND THEIR MEDICINAL
PRODUCTS.
BY I. E. T. AITCHISON, C.I.E., F.R.S.,

Brigade Surgeon, Bengal Army.
Read at an Evening Meeting of the Pharmaceutical Society of Great Britain,
Wednesday, December 8, 1886.
---
This account is certainly worth reading in its entirety from the research pages which provide it. Anything else would detract from the sense of Pharmacological adventure!! Click into the address listed here, under asafoetida:http://www.swsbm.com/
---
What grotty horrors have we here for you hyper-kleen immortals? Have you the nerve to read on, after reading about sheer plains redolent with the stynking matter? Nevertheless, brave souls, this herb has a medicinal function. Take heart and, with courage, perservere.
--------------------------------
Of course, Canadians do not have to face the misery of Scorpions in their backyards, but here is a handy tip from Mailerindia for tropical travel. It is surprising what one may encounter in touring the net. First, isolate and understand the look of the plant (Ferula foetida Regel). Give up? They are to be found principally in Afghanistan and the Middle East, and also in Botanical holdings listed by a Horticultural site, shown below the Scorpion bite recipe:
FROM:
http://www.mailerindia.com/
Scorpion Bite Remedy
Scorpion Bite
(i) Dissolve Asafoetida (Ferula foetida Regel) in water; and apply on the bite.
Ferula foetida Regel
English - Asafoetida
Hindi - Hing
Telugu - Inguva
Tamil - Perunkayam
(ii) Drink a little honey when a Scorpion bites and apply some more honey at the place of bite.
------------------------------------------------------------------
You can cook with it: Tomato Rasam
Ingredients
½ small cup Tuar Dal (Red Gram)
1 Tomato chopped into small cubes
½ spoon Asafetida Powder
½ spoon Turmeric Powder
1 ½ spoon Rasam Powder
Tamarind the size of a small lemon
Salt to taste
Coriander leaves for garnishing - coarsely chopped

For tempering:
2 spoons Ghee (clarified butter)
1 spoon Mustard Seeds
½ spoon Cumin Seeds (Jeera)
Usually non-toxic in the amounts used in cuisine or therapy. Gum may cause contact dermatitis. Ingestion of 15 gm, a massive dose produced no untoward effect, though damage to the gastric mucosa at high doses has been reported. A smaller dose of 0.1 g/h did not produce this change."
---
Contra-Indications:
The gum may cause contact dermatitis, and high doses have been reported as causing possible damage to the gastric mucosa.
---
Check the site below for a good look at a hunk of the Devils Dung and for a list of names for asafetida from around the world:
http://www-ang.kfunigraz.ac.at/
Asafoetida Holdings Listed
This Horticultural Association tells you where specimens are grown and may be contacted.
--------------------------
This chust might be Black Magic!
This site is well worth investigating for the colour, humour and warmth.....
Heredity: Pennsylvania Dutch:
---------------------------
"Asafoetida (various spellings)
Asafoetida is called deifel's dreck (deiwelsdreck or devil's dirt or excrement in Pennsylvania Dutch.) It is a gum resin secretion of a bush or shrub from the Orient.
The Dutchman used it for various medicinal reasons for man and beast. One of the most popular traditions was an asafoetida bag worn around the neck from fall until spring to "keep the evil spirits away" and keep you healthy. (Our ancestors didn't know about germs. They believed that illnesses were caused by evil spirits.) Asafoetida smells like old, stinky gym socks laced with garlic.
How we talk: "Pap always put on his long underwear and asafoetida bag in October and wore them until April or May. He was a nice guy, but he chust didn't smell so good."
http://www.landisvalleymuseum.org/
And from the stars, an astrological spell which just might be black magic:
"The twelfth Mansion is Azarfa, and it is for the separation of two lovers as you may wish. When the Moon has passed around to this Mansion, fashion in black lead the image of a dragon fighting with a man, and in front of this figure write the name of the lord of this Mansion. Cense the image with the hair of a lion mixed with asafoetida, and say: You, Abdizu, break apart and separate them, NN from NN. Bury this image in the place that you wish, and it shall be as you desire. And know that Abdizu is the name of the lord of this Mansion."
http://www.renaissanceastrology.com/
Better look out if your name is NN!
---
Yes, this plant is genuinely called Food of the Gods, or Devils' Dung. It's commonly known name is Hing. It is used in Ayurvedic remedies.The 1887 account mentions the plants'delicious qualities as a maturing plant head, which looks like a giant cabbage, though it has a yellow flower with umbrels similar to Loveage, which does not stink. Loveage helps dogs to salivate and is also called Wolfsbane, so helping this to remain in the woods might prevent some doggie diseases for wolves, wild dogs and foxes.
History, from A Modern Herbal.
Devils Dung was found in Aral in 1844, a native of Afghanistan, growing two to four thousand feet above sea level. Cabbage like heads are eaten raw. Its fruit is used for medicine and sent to India for manufacture. (known as Bazaars and Kandaharre Hing)
Characteristic odor stronger than an onion, bitter taste.Vile taste, so given as a pill. Asafetida is a foetid bownish gum, hence its name. Called "Hiltit" by middle ages Arabic physicians.
Constituents
volatile oil,10%, 50% gummy oleoresin resin- 25 %, free ferulic acid, terpenes, disulphides and pinene, water, some impurities.To add to Mrs Grieves study, another site continues into interpreting the chemistry of the plant:
"The resinous constituents are asaresinol ferulate, and free ferulic acid (hydroxymethoxy-cinnamic acid) urnbelliferibne-a lactone of umbellic acid formed on boiling the resin with hydrochloric acid and filtering into ammonia, umbellic acid (dihydroxycinnamic acid) is also present. Disulphides and sugars form the other components l,6."
http://www.modern-natural.com/
stimulant action for the brain, local stimulant to mucous membrane, esp: alimentary tract,asthma, bronchitis, whooping cough.,flatulent colic,hysteria infantile pneumonia,condiment (eg Worcestershire sauce)
I quoted the same text as the link immediately above as to a viable study made into the actual actions in health that the plant provides:
"Asafoetida is bacteriostatic to S. aureus and Shigella sonnj. Another study, however, avers that asafoetida is not bacteriostatic to intestinal organisms. Its role in abnormal states of the gastrointestinal tract being change in the ratio of hydrogen sulfide to carbon dioxide formed by the micro-organisms in the digestive tract.
LINKS BELOW BRING PAGES UP IN SEPARATE WINDOW
---
copyright Sue Risk Northdays Image 2004 - 2015