The Chinese Lantern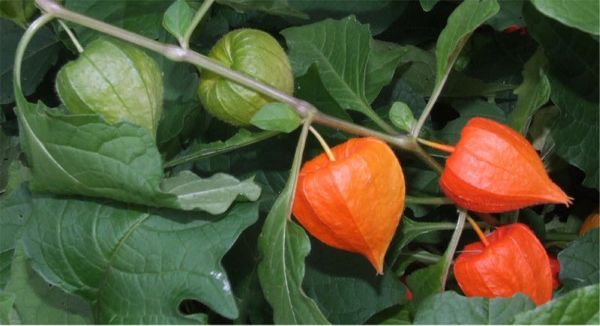 The thorough warmth begins to cool in the Autumn rain. In the gardens, lawns are now a brilliant emerald, offsetting the splendorous array of coloured flowers.
Especially as the Chrysanthemums unfold into huge mounds and sprays of hundreds of blooms, the papery orange fruit I know as Japanese Lanterns take on their fiery brilliance in an almost red-orange to lemon yellow.
A Rare Gift
It is a rare gift, but one day some friend of yours will zip over with a huge bunch of those beautiful paper lanterns in their arms. The leaves are somewhat wet and nondescript, but, stripping the stems of the plant will leave long, two to three foot stems holding six or so dangling, delicate "lanterns".
Inside each of these is a shining orange "cherry", a fruit that we children used to savour in the brown-oak, foggy Fall of Great Britain.
Their fruit is rather like the Ground Cherry, or "Jerusalem Cherry" which grows all over the Laurentians hills in Quebec, Canada.
As kids we used to pick those, too, though the "tomato" from within the papery folds of the Chinese Lantern (Physalis alkegengi) is a mite more tangy from perhaps Vitamin C than the Persimmon- tone of the Jerusalem Cherry.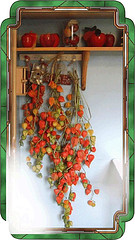 My exquisite paper lanterns lasted for several months,brightening the October to December household and providing splashes of orange detail to wreathes that I put together the next year.
After the sticks seemed somewhat dusty, I took some of the well-preserved lanterns and carefully saved them in a dry box. Carefully adding the "blooms" to other dried flowers and rusty silk Chrysanthemums ceratainly sparked the fruitful effect that I wanted in my Autumn wreathes. I also stood some of the taller stems next to my scarecrow outdoors. Every year our town has a scarecrow contest, and many householders join in to cheer the children as October chills.
LINK HERE TO PHOTOS OF THIS YEARS LANTERNS
A



t any time, a lantern is a symbol of light and freedom.
So any plant which provides so warm and fresh a light is a good friend of mine.
A symbol like this offers meaning to Seasonal arrangements.

P



hysalis is a native of Central and South-East Europe and Western Asia to Japan, although it grows very well in North America.
Though it is said to thrive on "dry, calcareous soils" I have had trouble sowing the seeds I took from my gift bunch in the limestone rich soil I gardened before moving here.
I tried three years in a row with harvest or packaged seeds, and only noticed the plant humbly growing in the yard after I had moved and lived in the new home for three years! The seeds may have lain dormant for six years before emerging in the new yard.
At this stage my one plant is only a foot high and the lanterns are still green (today is the25th of September).




I




look forward to my first papery beauties and to a fine stand of them in the future. Chinese Lanterns also propagate by division.





*Image by: S. Risk , "Chinese Lanterns"
Physalis alkegengi. Northdays Image: Natural Light Photos
LINKS BELOW BRING PAGES UP IN SEPARATE WINDOW
---
copyright Sue Risk Northdays Image 2004 - 2015