The Creative Vegan
AUG -SEPT COLUMN 2008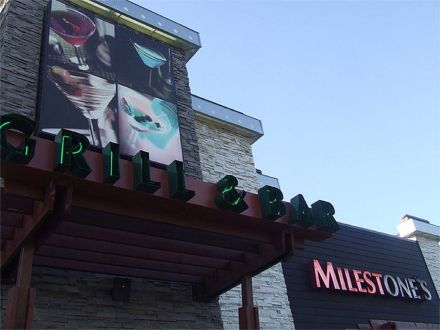 Every once in a while, I write up a business that offers a lot more to the consumer.It might be about warmth and friendship, or quality products, or perhaps the aware heritage thinking that shines from a business decor.
Whatever- I want to clearly state that this is not a commercial venture of mine, it is meant to inspire other businesses.
The bottom line is toward better health for the whole community, and - why can't I just be blogging for friends and like-minded people, huh?.
I need to make sure I am not heckled so often by the uncommunicative weiners who keep calling documents on the internet "highly commercial", "full of greed", "contemptible", when they do not know what they are talking about.
I would like bigots like this to realize that some of us do a lot of communicating toward others' needs because we have mission purpose.
NEWER CUISINE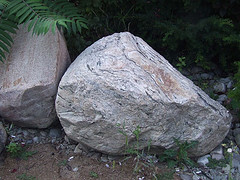 If you meet more happy press people a' chillin around Ottawa, you might see that one of the reasons for this is the wonderful enterprise very close by to The Ottawa Citizen on Baxter Road. (That's the local newspaper)
Yesterday my husband and I went to Milestones, a lovely casual restaurant refined by clear and very clean interior/exterior design, beautiful chandeliers, and absolutely brilliant cooking.
We went to one of the two restaurants situated in Ottawa; ours was at 1080 Baxter Road.
The reason I am writing about Milestones Restaurant is that finally, finally, I have found a place where I can enjoy thrilling vegan meals, while not having to be overwhelmed by my husbands' order of chicken, or meat fumes from the kitchen, either.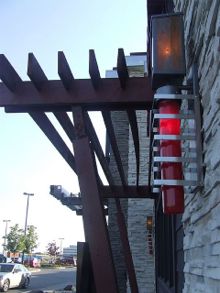 Link to Milestones Grill and Bar for their full menu and personal web statement.
I am including my menu for the evening, since I was able to mix and match a humble veggie burger into one of the best evenings I've enjoyed in a long time.
First of all, there are choices of toppings for just your burger...see below:
Milestones Specialty Seasoned Beef or Veggie Burger
A fire-grilled patty served on a toasted sesame seed bun. Complete with crisp lettuce, sliced tomato, onion, pickle, and your choice of inspired burger toppings.
Inspired Burger Toppings
Choice of:
Californian Burger - Spicy house-made avocado salsa, tomato, double-smoked bacon
Four Cheese - Cheddar, partially skimmed mozzarella, goat cheese, feta, roasted garlic, cognac pepper
merican - Double-smoked bacon, sharp cheddar
I asked the waitress (very nice and courteous) to exclude the bun. The burgers come with curly fries, salad, and other lovely sides.
I said "Fries, please, but I'll add the baby greens stir fry with sesame seeds (a side dish) and also the champignons (French for mushrooms) with Portebello mushies in red wine (also a side dish).
My husband said, "I just ordered half a chicken, with garlic mashed potatoes".
When our orders arrived, we had been sitting in the beautiful clean outdoor court-garden of the restaurant, where we could smoke in peace.
Our coffees had arrived immediately, after large tumblers of iced water had been given to us. Our serviettes were white linen. The plates are Japanese modern, and the food plenteous.
When I first tasted my Veggie Burger, I was astonished - gone was any cardboardy taste that soy often has, and, instead, garlic undertones with the extreme of four cheeses topping the burger just burst with tastiness.
I had never tasted cognac pepper before. The curly fries were exquisite, and did not cause any indigestion. They came with a Louisiana-style hot sauce which made my meal even more unique. I had added baby greens, and I was served really well- made bok choy, with spinach and white sesame seed, also flavourful and very fresh.
The mushrooms were simmered in burgundy with a non- meaty sauce.
Together the platter I had created just rocked- it was as good as any gourmet entree I've ever had the good fortune to find.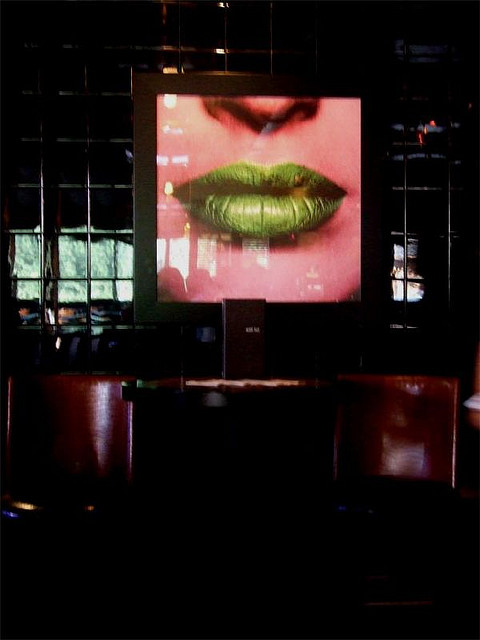 I am reminded of French cuisine for richness, the type of entree one purchased for $30.00 a plate way back in the sixties in Torontos' Yorkville.
But along with that elegance- the taste sensations were so pure and well-balanced - what was it, the combination of european with eastern savour, or the uniqueness of the type of ingredients that had so thoughtfully gone into the meals' construction?
Whatever it was, I raved all the way through the meal- the sunlight was perfect, as were the milestone rocks chosen for natural landscaping just outside the glass fenced court. I loved the Warhol style repeats of differently coloured lips.
A total of four people came to serve us. Service was almost immediate, although tremendously fresh.
I tasted Brents' garlic mashed - yummy! and he also gave me half of his corn muffin. Even that had been baked to perfection with a minute limn of something like fresh green chili pepper juice on the bottom of the muffin shaped corn bread. Mmmm!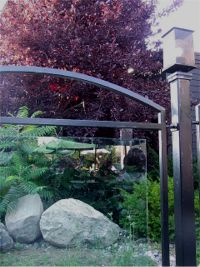 When the dessert menu came we were too full, but you should see the quality of the dessert choices! I had my eye on the butter toffee in Scotch, topped with dark chocolate cream, but I screeched on the willpower and quietly mentioned the idea of coming back..

"just for desserts?"
We were both pretty happy to be there- the exterior was made with some imagination and the interior was not too cluttered. High standards in maintenance and in food choices very obviously have filled the bill for a more sophisticated diner.
Anyway, whether you like high quality vegetarian food or regular, try combining things your way- I was pleased to suggest the whole platter to the chef, as an actual entree, through mentioning this idea to the waitress.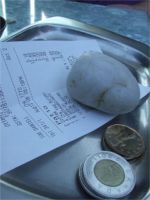 She had told me she had just tried the greens and that they were "Awesome"!
I made up my mind- I will always recommend restaurants that try hard, because for a vegan like myself, so many of them serve boringly meat- oriented fast-food. I'm sick of getting the garden salad and a baked potato, because that's all that is actually vegetarian - come on!!
Together, the tastes and ambience, good services and meditative interest (and floral boxes on the fences) gave us an elegant and interesting evening.
I say thanks for having compassion on we people to Milestones, and no, this is not a paid advertisement.
I just write up businesses that care, because care is good for your health!!
Cheers!...Sue.
LINKS BELOW BRING PAGES UP IN SEPARATE WINDOW
---
copyright Sue Risk Northdays Image 2004 - 2015