Growing Up With Poppies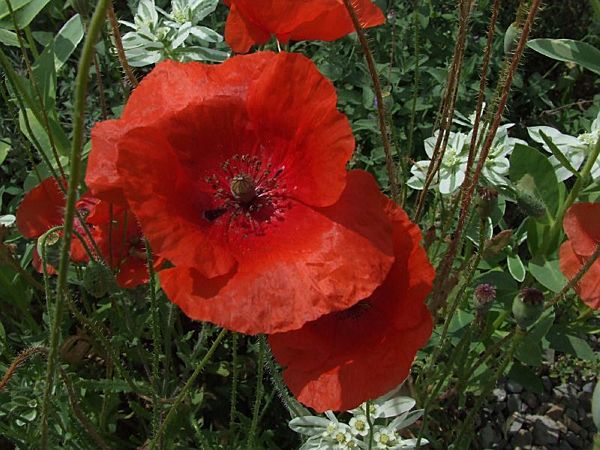 left:


Shirley Poppy - Garden Variety (Papaver rhoea)
PHOTO BY: Northdays Image: Natural Light Photography
A brief survey of the net reveals many varieties of Poppy: There are the Opium Poppy Varieties; Papaver somniferum, Mexican PricklyPoppies: Argemony mexicale, Argemony glauca, and platyceres.
We are familiar with the California Poppy (Eschcholzi californica), an orange simple poppy which grows wild on the California coast. Another orange variety is the Welsh Poppy (meconopsis cambra) with varieties aurantica and Flore Pleno.
I love the Himalayan Blue, or Tibetan Poppy (Meconopsis betonicifolia). My garden has been regally graced by the giant Oriental Poppy (P orientale) , varieties of which are orientale (Orange) and orientale (Prince of Orange).
There is an Iceland Poppy called P nudicaule cs.
In England we grew little Shirley poppies every year. Their fragile, thin, silken pink and white petals lasted only three days on the tender pale green, bristly stems. I loved their soft-prickled calyxes, covered with many fine pale green hairs, and the stylized cluster of stamens and pistil in the centre of each.
Every (post World War 2) British garden sported Opium Poppies (in case), though we never did anything with the tough, succulent, richly double blooms but pick them for florals.
Opium Poppies only produce morphine when underripe, so that the seed and toughened seed pod are useful in cooking and medicine while less harmful and without opium or morphine.
My Herb Garden in Canada had a beautiful stand of the red-orange Oriental Poppy (Japanese Poppy). Their massive blooms are shinily silken and opulent. The brilliant red colour turns to a deep-black/auberge in the centre of each bloom, framing black-purple stamens and pistil which are most distinctive.
The petals fall all too soon, but the pods are great for drying and placing into floral arrangements. I saved mine for the mice sometimes. Their seed caps have a raised mandala reminiscent of the great wheel of Dharma in Buddhism or the eight -rayed mandala of the heart chakra.
I would recommend the Poppy Image Vault run by Erowid for a beautiful clear look at some of the opiates or Mexican Poppies.
Their address is:http://www.erowid.org/plants/poppy/poppy_images.shtml if the Photo Link below does not connect.
Erowid has a scientific stash of narcotics and hallocinogens imagery and lore,and operates by donation, offering qualified information on the usage and appearance of narcotics in nature. Their mushroom pages are great.
Photographer Eric Clausens' Papaver somniferum is shown here along with the its seeds (by Erowid).
The Papaver s. is also used for the banners in pages on remembrance, though their official emblem is the Flanders Poppy. Their use as images is copyright Erowid and allowable under certain conditions. I have written asking permission to use the Papaver image, since the site asks for a polite involvement of that nature.
Eric Clausens' work is beautiful!
We learned about the opiate in poppies as children as we watched The Wizard of Oz, a childrens' Film Classic starring the then very young Judy Garland.
As Judy and her friends "follow the yellow brick road" to see the Wonderful Wizard of Oz, they came across a huge field of poppies, as far as the eye could see. One by one, the friends fall asleep from the sedative in the lovely red poppy field.
Poppies are certainly not just a symbol concerning Remembrance Day. In Great Britain, the wheat fields ripen to a clean, sunny gold and both red field poppies (called Corn Poppies ) plus royal blue Cornflowers richly wash through the gold in the thousands.
Since I grew up in England, the Poppy is a symbol to me of fertility and certainly of those blessed fields that rolled and glistened over many small hills as we passed on our way to the seaside in Essex.
LINKS BELOW BRING PAGES UP IN SEPARATE WINDOW
---
copyright Sue Risk Northdays Image 2004 - 2015